Our Signature Addition
There's a reason we consider this our Signature video. Because there is nothing else like it. You won't find a single other Videographer doing anything like this. So what kind of video is it? Well, imagine sharing your story in a way that was heartfelt and sincere, but also left your guests laughing and cheering for more by the end. Sounds unlikely right? Nope. Do a quick word search in our 80+ Reviews on The Knot for the word "Couples Video" and you'll quickly discover that for most couples, adding this video to their package was the single best and most memorable part of their Reception. You're literally throwing a party for hundreds of people that love you and they're mostly all drinking and ready to have a good time. It's the perfect recipe for a video like this.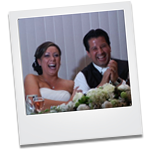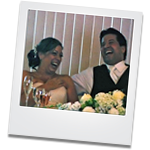 This is actual audio of an audience response
during the viewing of a Signature Couples Video.
Results typical :)
Sample "Signature Couples Videos"
Candice and Gregg were married on May 17th, 2014 in beautiful Villa Mara in Malibu, CA. This is their story...
MJ and Darius were married on September 6th, 2015 at the beautiful waterside Bali Hai Restaurant in San Diego, CA. This is their story...
Kimmy & Jojo were married in October 2015 at the US Grant Luxury Hotel in San Diego. Before that, you could say they were "Drunk in Love" ;)
COMING SOON!!! - Our newer samples from 2017/2018 complete with "live guest reactions" as we filmed the couple and their guests watching it live during their Reception with all their guests. It shows the typical response to our Signature Couples Video. Lots of laughing and high-fives. This ain't your typical slow, tame "slideshow". It's our Signature addition to any Wedding Package.
Price includes the use of our Professional HD projector & 80"-wide projector screen!!!
Contact us today for more details.
Wanna See Another Sample Couples Video? Equally hilarious and completely unlike anything you've ever seen at a wedding. Click HERE OR HERE OR HERE and Enjoy! Again, check back soon for our exclusive "live guest reaction" video showing you the typical response to our Signature Couples Video.