Our
Signature

Addition

We've all seen the typical "slideshow" at Weddings. They are nice, but often somewhat boring, right? Your reception is a party so why slow it down with a video of just photos of you guys growing up? Our

Signature

Couples Video is the entertaining alternative that actually fuels the party leaving guests cheering for more. Am I exaggerating? Well, listen to the audio response below. This is like nothing you've ever seen at a Wedding. Through one-on-one interviews, hilarious re-enactments, green screen visual effects, or whatever we can imagine, we tell your story. You both have VERY different perspectives of how you met, how your first date went, and of course, how the proposal went down. That's GREAT material! As we do these more and more the "word is getting out" that this is an awesome addition to any Reception because it FUELS the party. So far we've reenacted beer pong, dancing on a bar, Jeopardy, house parties, a music video, an E-Harmony commercial, fencing, a Backstreet boys video, a scene from The Notebook (in the rain), and much more. The possibilities are endless. It's all about telling your story in an entertaining way.

Couples often ask us if we can do Same Day Edits (SDE's) to be shown at the Reception and we say yes we technically can, but specialize in something that's even better. While an SDE is impressive, and some companies do phenomenal edits for the Reception, why not give your guests something that's equally impressive, FAR more entertaining, that fuels the PARTY instead of slowing it down. and when all is said and done, leaves you with an additional video that's totally different than your final Wedding video that you can share with friends and family for years to come. Our Couples Videos are designed to be FUN! A careful blend of hilarity and sentiment. You have the perfect audience too! They all know and love you and are just dying to have a good time... Why not give them what they want...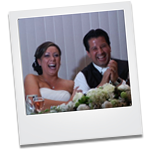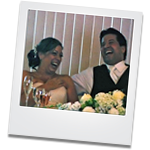 This is actual audio of an audience response
during the viewing of a 2011 Couples Video below. Results typical :)
Sample "Signature Couples Videos"
Candice and Gregg were married on May 17th, 2014 in beautiful Villa Mara in Malibu, CA. This is their story...
MJ and Darius were married on September 6th, 2015 at the beautiful waterside Bali Hai Restaurant in San Diego, CA. This is their story...
Kimmy & Jojo were married in October 2015 at the US Grant Luxury Hotel in San Diego. Before that, you could say they were "Drunk in Love" ;)
COMING SOON!!! - Our newer samples from 2015/2016 complete with "live guest reactions" as we filmed the couple and their guests watching it live during their Reception with all their guests. It shows the typical response to our Signature Couples Video. Lots of laughing and high-fives. This ain't your typical slow, tame "slideshow". It's our Signature addition to any Wedding Package.
Price includes the use of our Professional HD projector & 80"-wide projector screen!!!
Contact us today for more details.
Wanna See Another Sample Couples Video? Equally hilarious and completely unlike anything you've ever seen at a wedding. Click HERE OR HERE OR HERE and Enjoy! Again, check back soon for our exclusive "live guest reaction" video showing you the typical response to our Signature Couples Video.